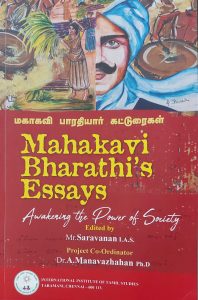 Book : Mahakavi Bharathi's Essays
(Awakening the Power of Society)
 Translators                : Dr. A. Manavazhahan       
                 Mrs. S.Malathi
EDITORIAL
Dr. A. Manavazhahan ,
Associate Professor,Sociology, Art & Culture,
International Institute of Tamil Studies, Taramani, Chennai -113.
Bharathiyar lived on this earth only for a short time. But what he has done to benefit the world is too enormous; his writings have endured through the centuries, and Bharathiyar's thoughts have the power to measure the globe. Bharathi's innovative art created new techniques in writing while also expressing a sense of humour and passion, all without violating the tradition's originality. Bharathi contributed modernity to literature as a pioneer of Tamil poetry and prose. Bharathi, who lived up to 39 years old, only inspired the people of India with passionate thoughts and poems. They were more effective weapons that instilled feelings in the people, such as a sense of freedom, nationalism, and self-respect.
Bharathi's poems are emotionally immersed, while his articles exhibit deep wisdom. Essays are not inferior to poetry, but they provide profound insights and worldly perspectives. However, the fact that Bharathi's essays could not achieve the heights of his poetry, of is astonishing. Unfortunately, many of the people today's generation believe Bharathi's writings are nothing more than poetry. There are several causes behind this. Bharathi's admirers also appreciated only performing Bharathi's poems on stage and only including poetry in the school curriculum.
Bharathi stated of the prose, as Kamber informed them in the poem, that it should have all four qualities of clarity, gentility, brightness, and morality. Among these, morality requires that it flow freely and without interruption. There is no proper flow in today's prose, but there is more wobbling. The hand will write in a linear Tamil manner if there are honesty and courage in the heart and if the Tamil power, a passion for the Tamil language, is anchored in the heart. His works also show that Bharathi was the one who kept Tamil power in mind while maintaining his honesty and courage.
Bharathi's essays are on the diversity of social development, Indian liberation, national unity, caste equality, religious harmony, passion for the Tamil language, the awareness of Tamil culture, Tamil Nadu's development, women's liberation, academic vision, industrial development, and Labour awareness. Bharathi's texts have crossed the borders of western and eastern countries such as the United Kingdom, the United States, South Africa, Russia, Japan, and China. Bharathi's societal concepts are still needed today, regardless of language, race, or country. Based on this need, the Government of Tamil Nadu has announced a plan to publish Bharathi's works in a vintage print. As part of the project, translating Bharathi's essays into English was done.
The book 'Bharathiyar Katturaigal (Full)', published in Tamil by Poompuhar Publications, was used for this English translation project. A few articles from the Sahitya Akademi published under the title 'Mahakavi Bharathiar katturaigal' were taken. These articles are not available in Poompuhar publication's book. The part of the article has been significantly edited from its original Tamil contents to make it easier for readers to understand.
Simplicity and profound thoughts are the beauty of the article, which is Bharathi's creative principle. However, in the style of his essay, we had to pay extra attention to translating them, as there were a lot of long sentences for a large paragraph size and more usage of the dialects of a particular community. Additional explanations are provided for such dialects to make it easier for readers all over the world to grasp. The ideas expressed by Bharathi in the articles have been translated verbatim, with no changes or omissions.
When referring to the important two duties of Tamil scholars, he says as follows,
 "We should seek to promote honey-like
  Tamil concepts all across the world."
 "Texts of eminent foreign scholars 
  Need to be translated in Tamil."
 In these duties, we have not translated the beauty of Tamil into other languages to the extent that they had imported many of the valued intellectuals' ideas into Tamil. Bharathi, the great Tamil poet, was not as well-known in other languages and among foreigners as Indian poets like Ravindranath Tagore and Western poets like Shelley and Walt Whitman were in Tamil. In light of this, the Hon'ble Chief Minister of Tamil Nadu, Thiru. M.K. Stalin has announced plans to print Bharathi's texts. He also presented this project to the International Institute of Tamil Studies. I want to express my gratitude to the Chief Minister on behalf of the Tamil scholars.
Thanks to Thiru. Makesan Kasirajan IAS, Secretary to the Government, Department of Tamil Development, who was instrumental in the quick release of the project. Thiru. S. Saravanan IAS, the Director, International Institute of Tamil Studies and Department of Tamil Development, gave me a chance and guidance. He has my gratitude.
Mrs. S. Malathi, a Research Scholar at the International Institute of Tamil Studies, has been helpful in the project's announcement and completion in a short period. Thanks to her.
CONTENTS
 Society
Don't give up good nature. 1
Dowry bail or groom price 4
Hawk vision 6
Garland 9
Body 12
Wealth – 1 17
Wealth -2 20
Old World 34
Trial 37
Multifarious things 41
The way to civilize animals 43
Reforming Animals 47
Animals and birds 49
Why? – Council (Committee) 53
City 55
Infinite power 57
Wolf and pet dog 60
The Sound of life 63
Profession – Workers
Future 67
The relationship between Profession and wealth 70
A few words for the Labours 73
The Pride of Labourers 78
Caste – Religion – God
Value 81
Meeting of Hindus 84
Who are the Hindus? 87
Four Kinds of Race 91
Paraiyar 94
Panchamar 96
Who is a Brahmin? 98
Hereafter 102
Whom to worship? 106
Chidambaram 107
The word of Jesus Christ 112
Kamadhenu                                                 116
Idiotic Devotion 121
Tamil –Tamils –Tamil Nadu
The status of Tamil 125
For the Tamils         128
Science in Tamil language 131
Awake Tamil Nadu 133
Civilization of Tamil Nadu 137
The Language Formed With The Breeze. 145
Tamil 147
Women's Dignity and Liberation
Tamil Nadu women 149
Brave Mothers 151
Freedom of Women 154
For Tamil Nadu Women 159
Sisters! 163
The Pathetic State of Widows in India 172
The Chaste Woman 176
Marriage Laws in Modern Russia 179
The State of Muslim Women 183
Liberation of women in South Africa 188
Education – Arts
53 National Education   190
Subjects 195
Village Schools 209
Matter of Music 213
Instrumental music 223
Women's Songs 227
Abhinaya 231
Japanese Poetry 236